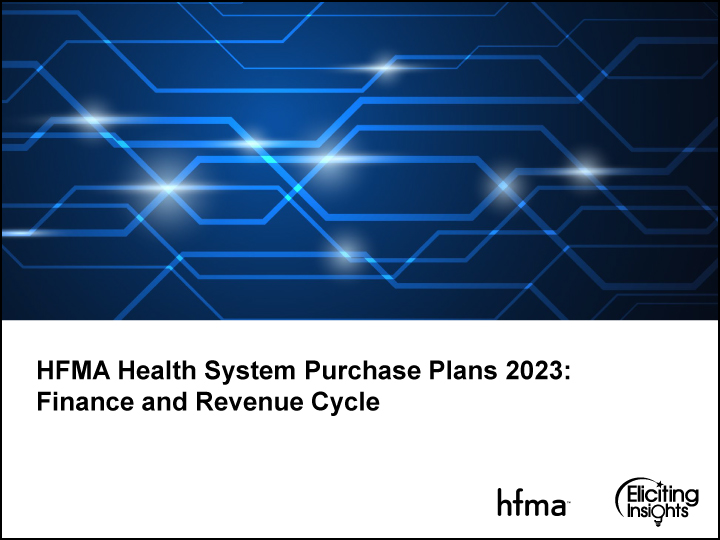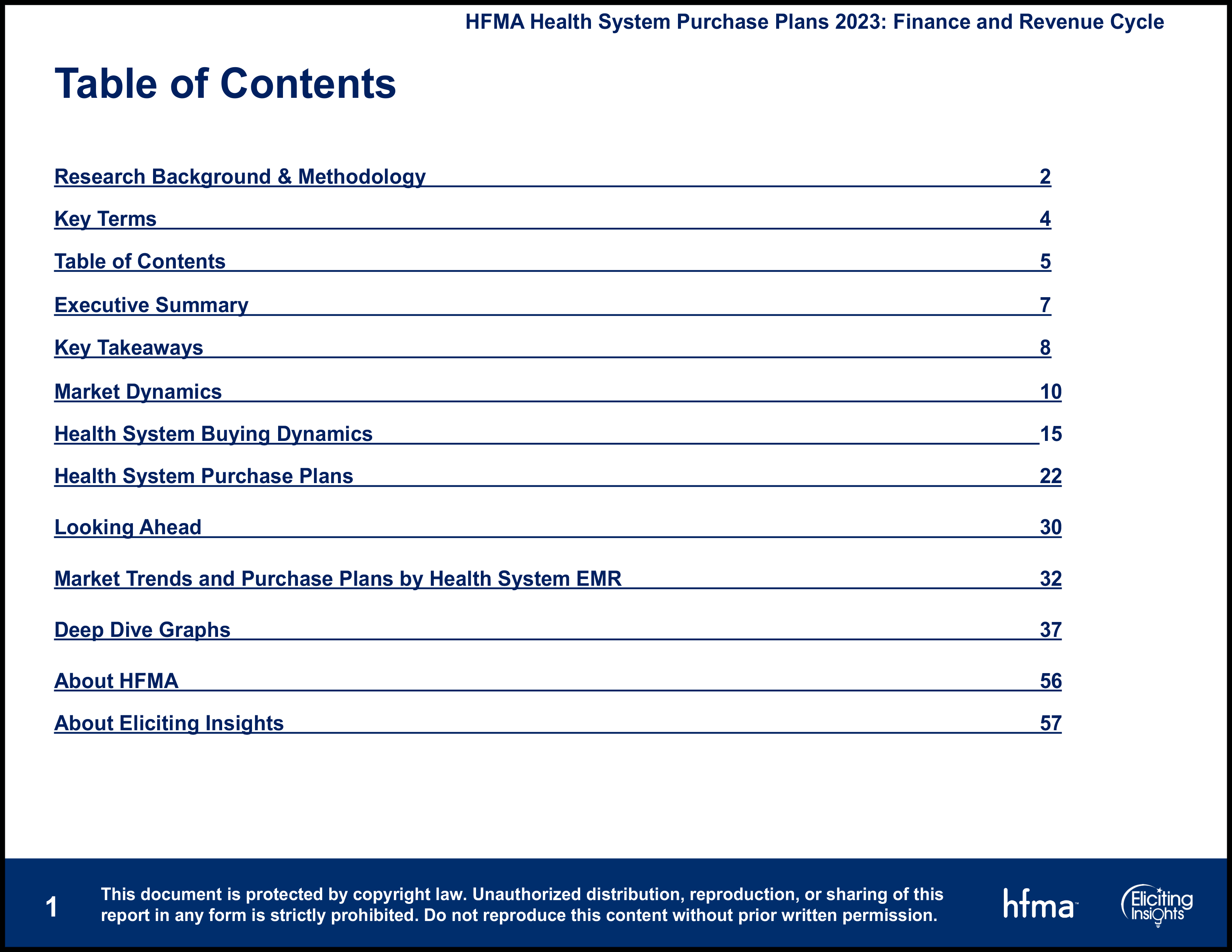 Health System Purchase Plans 2023
$2,500.00
Click "Return to Merchant" after purchasing to access the report.  Contact info@elicitinginsights.com with any questions.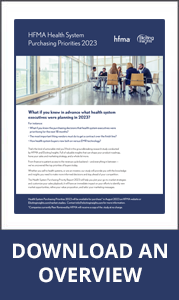 Based on feedback from over 300 health system executives, this comprehensive study provides actionable insights into health system purchasing priorities that will give healthcare vendors and investors the key market data needed for M&A, strategic planning and sales execution.
Key benefits of the report include:
A deeper, more informed understanding of top purchasing priorities among healthcare organizations that will enable vendors to align their offerings to customer needs.
Insight into how senior hospital and health system leaders think about vendor selection, allowing vendors to better prioritize their product roadmap and establish themselves as trusted partners.
A more holistic view of emerging trends that will allow vendors to better adapt and innovate in response to evolving market dynamics.
A better understanding of how health system executives think about bolt-on versus EMR technology.
*Companies currently Peer Reviewed by HFMA will receive a copy of the study at no charge.
Revenue Cycle Management Solutions include: AI-based coding, Analytics, Charge Capture, Charge Description Master, Claims Editor/Claims Submission, Clinical Documentation Improvement (CDI), Computer Assisted Coding, Contract Management Cost Reports, Denials/Appeals Management, Eligibility Verification, Encoder, Insurance Discovery, Patient Accounting/Business Office Management, Patient Estimation, Patient Self Service/Digital Front Door, Prior Authorization, Propensity to Pay, Remittance Management, Remittance Management, Revenue Integrity.
Finance Solutions include: AP Corporate Payment Card, Banking Services, Budgeting, Cost Accounting, Decision Support, ERP, Financial Planning and Analysis.
Outsourcing Solutions include:  Accounts Payable, Aged AR, Bad Debt, Coding, Credit Balances, Entire Revenue Cycle, Low Balance, Medicaid Enrollment/Eligibility, Patient Collections/Early Out, Patient Credit/Loans, Patient Scheduling/Loans, Prior Authorizations, Third Party Liability/Complex Claims, Underpayments.
The report provides analysis of Finance and RCM technologies and services, with data cuts by health system EMR, Bed Size, and Region of the country. Additional insights include the ROI needed for consideration and how health system mergers are impacting purchasing decisions.
Eliciting Insights Market Studies are based on our unique proprietary panel of hospital executive decision-makers and designed to bring you insights from the front lines like no one else can.
Purchase previous studies below, or contact us to learn more about upcoming studies or about a custom study.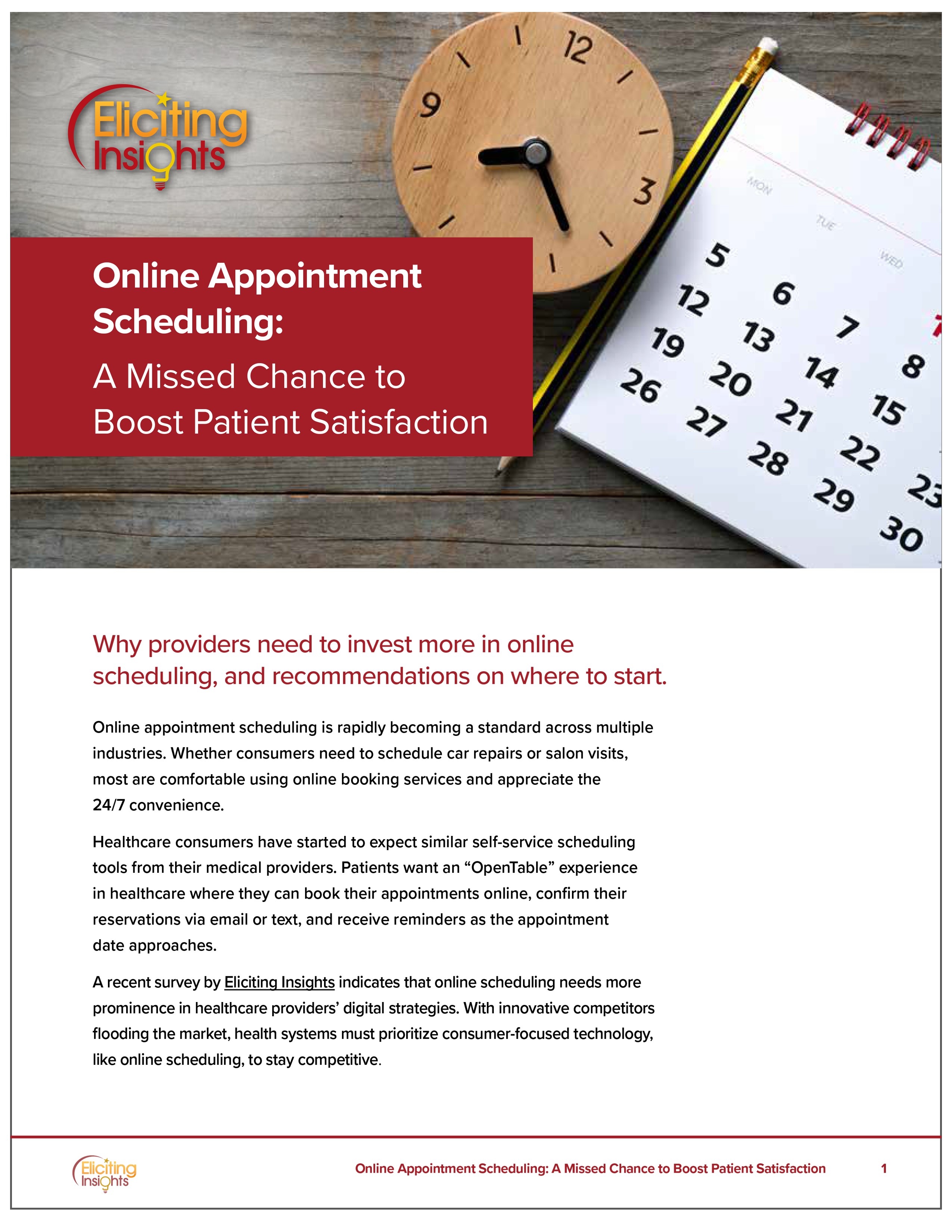 Online Appointment Scheduling: A Missed Chance To Boost Patient Satisfaction
Why providers need to invest more in online scheduling and recommendations on where to start.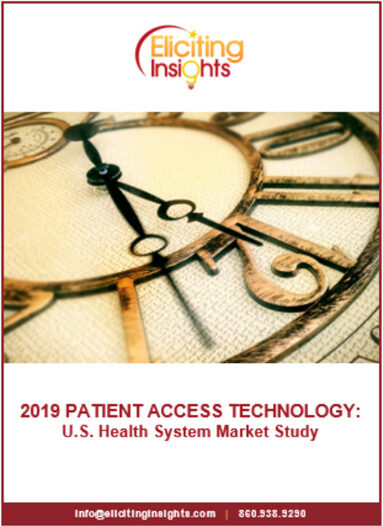 2019 U.S. Health System Patient Access Market Share Study
$1,500.00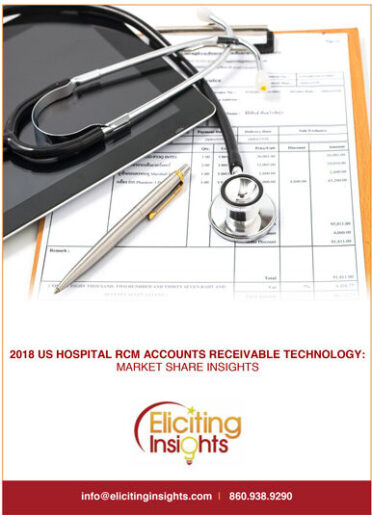 2018 US Hospital RCM Accounts Recievable Technology: Market Share Insights
$1,500.00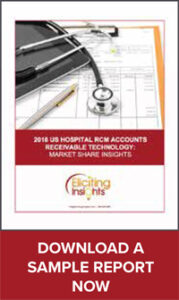 This report highlights the significant and unprecedented market opportunities that currently exist in hospital revenue cycle management, specifically technologies for managing accounts receivable.
The insights in this report should be used to help investors as well as healthcare and non-healthcare vendors make more informed strategic decisions as well as capitalize on the areas that are most ripe for business development and expansion while avoiding areas of inferior opportunity.
This report was designed specifically to help those investing in healthcare technology understand:
Which solutions have significant growth potential for portfolio expansion?
What is the landscape of revenue cycle solutions by vendor?
Which vendors have the most market share by product?
How satisfied are hospitals with their current vendor/solution?
What are hospitals' major pain points?